Hey IQHA Members!!! Have you ever considered running for the IQHA Board of Directors? IQHA is currently looking for individuals interested in serving their district on the IQHA Board. If you are a current member of IQHA and would like to run for a board seat, please contact Ginny Tauer iqhatauer@gmail.com no later than October 11.
Best of luck at the All American Quarter Horse Congress to our NYATT teams
IQHYA Team is:
Showmanship - Kyla Jefferies & Lynzie Hoffman
HUS - Olivia Koontz & Cassidy Fritz
Equitation - Caroline Fredenburg & Olivia Koontz
Western Pleasure - Kaitlyn Smith & Hope Delegrange
Horsemanship - Klair Merrell & Issie Himes
Reining - Katie Oakes & Hayvn Meihls

IQHAA Team is
Showmanship - Caitlyn Osting & Kendall Manlief
HUS - Ava Newsom & Brianna French
Equitation - Kendall Manlief & Justine Hess
Western Pleasure - Maggie Sever & Ava Newsom
Horsemanship - Emma Tarter & Maggie Sever
---
Check out team Work Horses…..IQHA is sponsoring this team on their adventure in the Equitarian Initiative
www.workhorsescycling.com
---
UPCOMING EVENT INFORMATION:
IQHA Annual Awards Banquet
January 18, 2019
Embassy Suites, Plainfield Indiana
---

---
Mission Statement: To promote interest in the American Quarter Horse and to represent membership. To achieve the mission, the association seeks to:
Educate
Encourage humane care
Promote the breed
Adhere to the rules of AQHA
Promote youth and adult activities and events.
Just what is an American Quarter Horse? If you have ever seen a horse in one of rodeo's timed events, been along for work on a ranch or watched a Western on the big or small screen, 9 times out of 10 you have seen an American Quarter Horse.
These heavily muscled, compact horses could run a short distance over a straightaway faster than any other horse, and the fastest were called Celebrated American Quarter Running Horses by English colonists in the 1600s. In 1940 a registry was formed to preserve the breed which officially became the American Quarter Horse.
Congratulations to THE 2018 Congress Queen,
IQHA's Taylor Foster!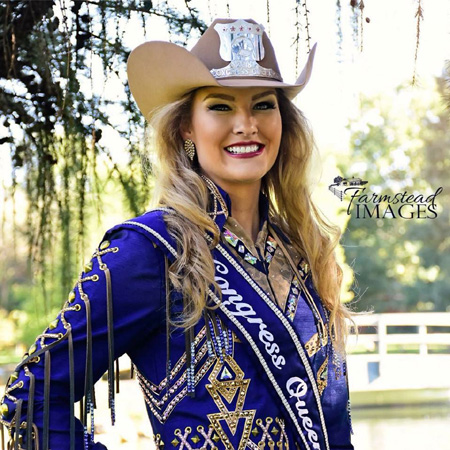 IQHA. All rights reserved. Site proudly designed and hosted by