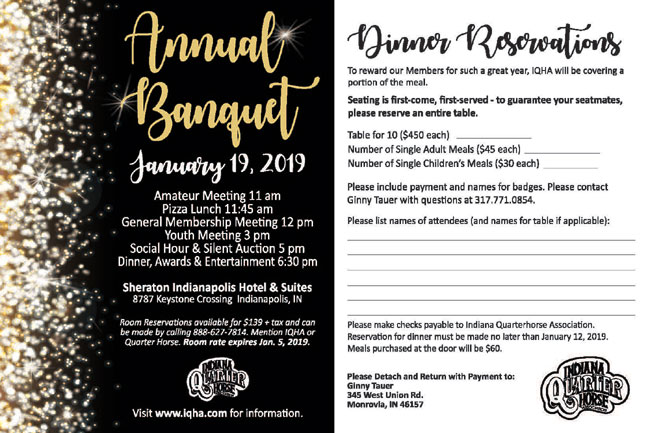 (click for printable pdf)
Convention and Awards Banquet, January 19, 2019 at the Sheraton at Keystone at the Crossing. You will be receiving invitations and information very soon. Be sure and watch the website and your mailbox for more information. Hotel rooms must be booked by January 4, 2019. They can be reserved by contacting 888-627-7814.
---
2019 IQHAA Slate of Directors
Below is our slate of directors for 2019. If anybody is interested in becoming a director, we'll be taking nominations from the floor the Amateur meeting on the 19th.

3 Yr Director
Julie Lovall
Janet Egolf
Michelle Lucas

2 Yr Director
Heidi Leitza-Lescun
Tamra Sisk
Elizabeth Miller
Jake Wicker
Mackenzie Boone

1 Yr Director
Brittany Brown
Amber Fowler
---
Congratulations to THE 2018 Congress Queen, IQHA's Taylor Foster!

---

---
Mission Statement: To promote interest in the American Quarter Horse and to represent membership. To achieve the mission, the association seeks to:
Educate
Encourage humane care
Promote the breed
Adhere to the rules of AQHA
Promote youth and adult activities and events.
Just what is an American Quarter Horse? If you have ever seen a horse in one of rodeo's timed events, been along for work on a ranch or watched a Western on the big or small screen, 9 times out of 10 you have seen an American Quarter Horse.
These heavily muscled, compact horses could run a short distance over a straightaway faster than any other horse, and the fastest were called Celebrated American Quarter Running Horses by English colonists in the 1600s. In 1940 a registry was formed to preserve the breed which officially became the American Quarter Horse.
CONGRATULATIONS TO OUR NYATT competitors

---
---
IQHA. All rights reserved. Site proudly designed and hosted by